When:
March 2, 2019 @ 9:30 am – 2:00 pm
2019-03-02T09:30:00-08:00
2019-03-02T14:00:00-08:00
Where:
Ruocco Park
585 Harbor Ln
San Diego
California 92101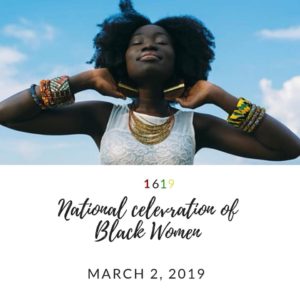 2019 will mark the 400th commemoration year since the first African captives arrived at the shore of Jamestown, Virginia in the year 1619.
1619 National Celebration of BLACK WOMEN was born out of a necessity to recognize the women in American history that emerged from slavery, defied the odds and came out victorious!
​On this day, March 2, 2019, during Women's History Month, black women are joining hands across the nation in celebration of our phenomenal ancestry and contributions in building America.
As the pioneering city of the 1619 National Celebration of Black Women, San Diego will host an exciting celebration.
Click link for San Diego event details:
https://www.1619nationalcelebrationofblackwomen.com/san-diego
If you can organize an event in your community/city, email 1619ncbw@gmail.com or leave a comment. The more joyful noise we make the more our visibility in a country that has historically discounted the Black Woman's greatness.
Here are great ways for you to join the celebration:​
* As an organization, plan a community event in honor of Black women (i.e. a march, luncheon, intimate discussion, etc.,) or encourage your affiliates/chapters/membership to take part in the celebration.
* Coordinate a celebration of Black women at your place of worship.
* As an Educational Institution (schools, colleges, HBCU's, etc.) educate and celebrate the accomplishments of Black women with your students.
*For mass communication (i.e. broadcasting, publishing, and online personalities,) broadcast extraordinary stories of Black women or facilitate a livestream discussion.
*If you have a strong social media presence, post about the 1619NCBW, or share a video on how Black women have influenced your life.
*Rock "I AM 1619" T-shirt and post it to FB, using #1619BLACKWOMEN or #1619NCBW.
Please share this event with every Black women and girl you want to honor and celebrate on March 2, 2019.
For more information, please visit: https://www.1619nationalcelebrationofblackwomen.com