When:
October 19, 2017 @ 12:00 pm – 8:30 pm
2017-10-19T12:00:00-07:00
2017-10-19T20:30:00-07:00
Where:
Council for Supplier Diversity
10679 Westview Pkwy
San Diego, CA 92126
USA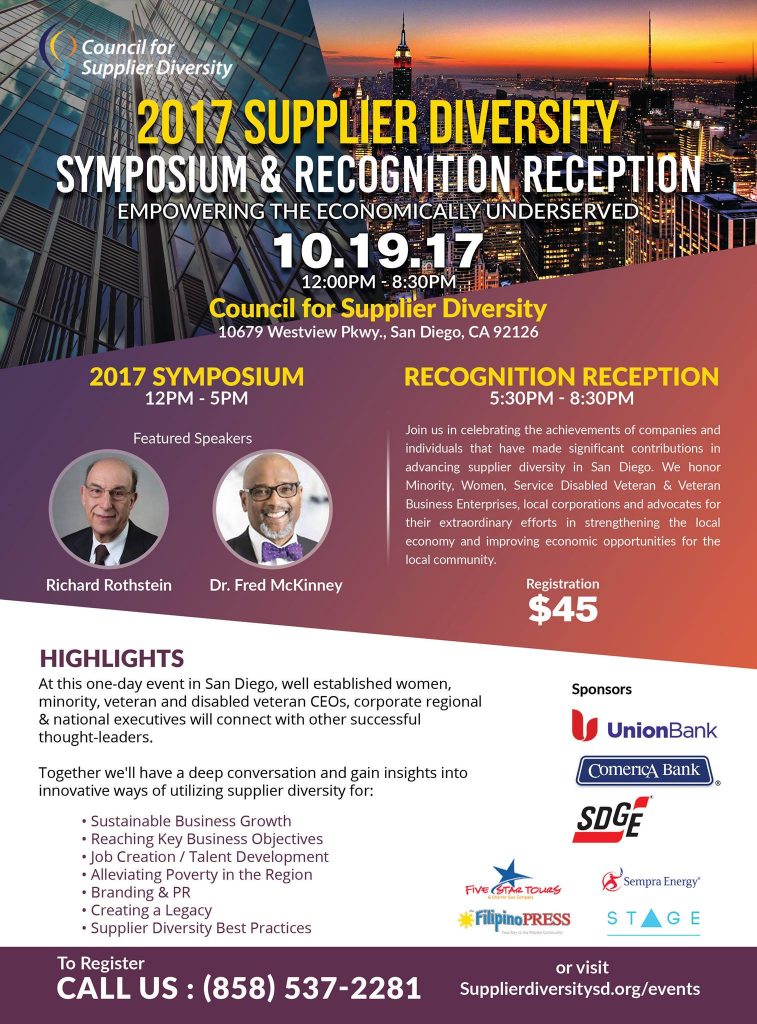 At this one-day event in San Diego, well-established women, minority, veteran and disabled veteran CEOs, corporate regional & national executives will connect with other successful thought-leaders.
Together we'll have a deep conversation and gain insights into innovative ways of utilizing supplier diversity for Sustainable Business Growth, Reaching Key Business Objectives, Job Creation / Talent Development, Alleviating Poverty in the Region, Branding & PR, and Creating A Legacy.
Tickets: $45
AGENDA
12:00PM – 1:00PM
Registration & Boxed Working Lunch
1:00PM – 1:15PM
Welcoming Remarks
1:15PM – 1:45PM
FEATURED SPEAKER: Richard Rothstein
Economically Underserved Communities: Who, How and Why
This insightful session will shed light on the powerful government interventions that drove racial segregation and created much of the economic inequality that exists today. The history will surprise you but the revelations will reinforce the need for continued emphasis on economic empowerment programs like supplier diversity. Copies of Mr. Rothstein's compelling book, The Color of Law, will be available during the evening reception.
1:45PM – 2:45PM
Led by the CSD President & CEO, Ron Garnett, the Supplier Diversity: Solutions & Strategy discussion will present a working model for revenue growth that leverages selling to corporate buyers while creating economic change in underserved communities. The session will highlight the role of local and regional business owners, corporations and community organizations.
~ Break ~
3:00PM – 4:00PM
Panel Discussion Summary
At the Case In Point panel discussion, our presenters will demonstrate proven ways of generating sales and increasing revenues, while simultaneously creating a positive impact in the community using supplier diversity. You'll hear how others are leveraging supplier diversity to increment sales while doing good in their communities, increase employee morale, and develop loyal customers.
4:00PM – 4:30PM
FEATURED SPEAKER: Dr. Fred McKinney, Managing Director, Minority Business Programs, Tuck School of Business at Dartmouth
"Beyond Spend: A More Holistic View of Supplier Diversity Effectiveness"
Topic Summary
The supplier diversity movement (SDM), like many other social movements focused on increased equality, has gone through several distinct stages. Recently, leaders in the SDM have begun asking whether spend is the best measure of supplier diversity success. This talk reports on recent measures that attempt to capture the "Economic Impact" and the diversity of spend with diverse businesses as rival or complementary measures of success. Designed for corporate procurement and supplier diversity professionals, the session will also provide insight to diverse business owners regarding their potential role in economic empowerment.
4:30PM – 4:45PM
Closing Remarks
5:30PM – 8:30PM
Recognition & Connection Reception