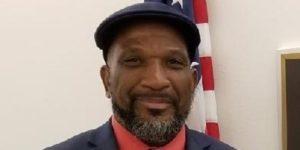 IWJSD invites all to bring your lunch and join us! The Lunch and Learn series from IWJSD is a program that seeks to introduce various faiths and traditions to the public highlighting the social justice strain within religions and to provide an interactive forum for discussion and discovery.
"The Theology of Racial Capitalism and Economic Justce"
with Bishop Cornelius Bowser
In 1845 Frederick Douglas said "Between the Christianity of this land, and the Christianity of Christ, there is the widest possible difference." He was addressing the relationship of American Christianity with slavery. This unrighteous act encompassed not just slavery but also churches participation in legal segregation and in structural racism more broadly. Racial capitalism is the promotion of institutional and structural injustice; the mentality of power and dominance.
On the other hand it is people of faith (Frederic Douglas called it the Christianity of Christ) who have fought to end racial capitalism by responding to economic justice call for equity and to hold society to a higher standard. Economic justice demands that we pay attention not just to the individual-level discrimination and unfair wages, but to overall social outcomes.
Cornelius Bowser grew up in the heart of San Diego and began to gang bang with the West Coast Crips in the early 1970's. His life took a dramatic turn on December 5, 1984 when he turned his life over to Christ. He accepted the call to ministry in 1987 and accepted the challenge to change the lives of young people who were caught up in a culture of the streets just as he was. He worked as a Junior/Senior High School Sunday School Teacher at Greater Apostolic Faith Temple; he held the office of Vice President of the Youth Department, Assistant Director of the Men's Ministry, and later the Director of the Men's Ministry. He was also the Founder, Director, and Gang Counselor of "Let Us Make Man" Outreach Services; a gang and drug prevention program he founded in 1992-1995, and he started the Youth Lock In Retreat in the City of San Diego. Cornelius Bowser is the founding pastor of Charity Apostolic Church (1995). In 1999 he was elevated to the office of Bishop and served as the Diocesan Bishop of California in the Jesus Christ Apostolic Churches and Christ Apostolic Temple Incorporated Fellowship. He was also the international representative for the young people that included churches in India, Pakistan, New Zealand, and the Philippines. Cornelius Bowser is a gang expert witness for state and federal courts. He is certified as a drug prevention specialist, trained in the fields of suicide prevention, family and marriage counseling, anger management, gang prevention and intervention. He has also been trained to provide initial help to those experiencing mental health problems such as depression, anxiety disorders, psychosis and substance use disorders. His expertise also extends to the training of new police cadets in community engagement. By employing the techniques of de-escalation support, conflict resolution, retaliation prevention, in-hospital spiritual care, in-home support and advocacy, Cornelius Bowser has brought quality community service to many individuals and families impacted by violence.
Suggested $5 donation
Monday, February 4th 12:00 pm – 1:30 pm Friendship Hall University Christian Church 3900 Cleveland Avenue San Diego, CA 92103
Schedule
12:00 EAT and listen to updates and news from our Community, Labor, and Faith representatives
12:35 Guest Speaker 1:10 Q & A
1:30 Conclusion