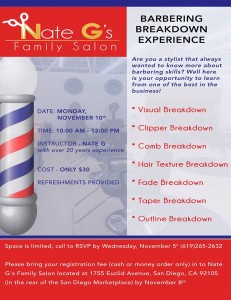 With over 20 years in the business Nate G is a master barber and he will break down a taper, fade and outline techniques as well as clippers and more to create the precision cut that your clients of all nationalities is looking for. Refreshments provided.
November 10, 2014 at 10 am
Location:
1755 Euclid Avenue (inside the San Diego Marketplace)
San Diego CA 92105
The cost is only $30, call 619-265-2632 to RSVP by Wednesday, November 5th and payment is due by Saturday, November 8th.