When:
February 15, 2019 @ 2:00 pm – 3:30 pm
2019-02-15T14:00:00-08:00
2019-02-15T15:30:00-08:00
Where:
UC San Diego - University Art Gallery (UAG)
9500 Gilman Dr. La Jolla
CA 92161

This event will feature esteemed guest speaker, Davarian Baldwin, Professor of American Studies at Trinity College. Professor Baldwin will talk about the growing influence of higher education on urban development, especially in communities of color. Following the talk will be a discussion where audience members are encouraged to ask questions.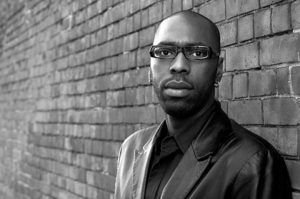 This event will be held in the University Art Gallery at UC San Diego, and attendees will have the opportunity to explore the current exhibit from the Center for the Study of Political Graphics. 
Event is open to the public. Light refreshments will be provided.
Seating is limited and may be guaranteed. Priority will be given to those attendees that arrive first. Please RSVP to help speed up the check-in process.
ABOUT SPEAKER:
Davarian L. Baldwin is the Paul E. Raether Distinguished Professor of American Studies at Trinity College in Hartford, Connecticut. He is the author of Chicago's New Negroes: Modernity, the Great Migration, and Black Urban Life (UNC, 2007) and co-editor (with Minkah Makalani) of the essay collection, Escape From New York: The New Negro Renaissance beyond Harlem (University of Minnesota, 2013). Baldwin is currently at work on two new single-authored projects, Land of Darkness: Chicago and the Making of Race in Modern America (Oxford University Press) and In the Shadow of the Ivory Tower: How Higher Education is Transforming Urban America (Nation Books). In addition to teaching and writing, Baldwin sits on the Executive Council of the Society for Historians of the Gilded Aged and Progressive Era (SHGAPE). He serves on the Editorial Boards for the Journal of Urban History, the Journal of African American History, and the American Studies Journal. Baldwin is also co-editor of the Urban Life, Landscape, and Policy book series for Temple University Press and was appointed a Distinguished Lecturer by the Organization of American Historians.
PARKING:
Paid visitor parking is available at the Gilman Parking Structure and the Osler Parking Structure – both approximately a 10-15 minute walk to the gallery. Please review maps prior and allow extra time to navigate to the parking lot and venue before the event starts, to account for rush hour traffic and construction on campus.
DIRECTIONS: 
The lecture is in the University Art Gallery on the UC San Diego campus. The gallery entrance faces west, at the west end of Mandeville Center and north east of the Main Gym.

SPONSORS: