Buy Black San Diego Voting Guide 2018
THE BUY BLACK SAN DIEGO Voting guide was developed to provide the African American Black community of San Diego county a guide to help in the 2018 election cycle.
This was also developed to shine a light on exceptional African American black candidates who are doing great work and need your support. This guide was cultivated and nurtured by individuals from many walks of life from stay at home moms, lawyers, engineers, students, millennials, Gen X's and Baby Boomers.
Please sign up for our mailing list here This guide is organic and may be updated as we grow and learn.
Please Post, Tweet. download and share!
Buy Black SD 2018 Voting Guide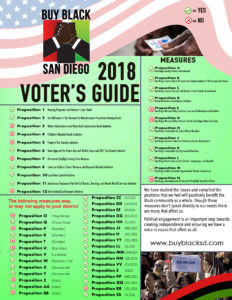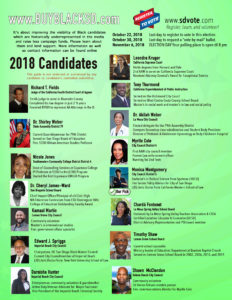 How do I register to vote?
To register to vote you must complete a voter registration application on paper or online at RegisterToVote.ca.gov.
Where do we vote?
type in your address in the polling locator by clicking here
How did you figure out how we(Black People) should vote?
We believe that even though we are roughly 6.4% of the San Diego population, there lies an even greater responsibility to advocate on behalf of our needs. We placed all things that elevate black american life at the utmost priority. Some of these things are Education, Safety and measures that save us money. We will defend some of our positions below. If we can improve let us know on the contact page
2018 candidates
These Black candidates need your support! Contact them and ask them questions about what they can do regarding the issues that affect your life. Here's how:
Research their position to see what their responsibilities/duties are
Contact them respectfully about what is currently being done and their priorities
Ask them directly what they can do about your issue
follow up, save emails and take notes and speak out when they address the community. We need your receipts
Congratulate them on social media when they do a great job
You will feel smarter and much more engaged when you do these steps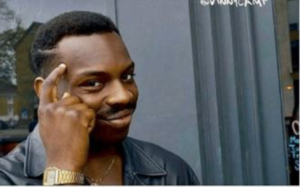 Roll Call
Proposition 1:
The Housing Programs and Veterans' Loans Bond
"YES"  We support this measure to authorize $4 billion in general obligation bonds for housing-related programs, loans, grants, and projects and housing loans for veterans.
Roughly 45% of all homeless veterans are African American or Hispanic, despite only accounting for 10.4% and 3.4% of the U.S. veteran population, respectively.
http://nchv.org/index.php/news/media/background_and_statistics/
OUR WORD:
Anything that gets veterans more money we are for it, it will help alleviate homeless and produce a healthier community. We hope local black owned organizations get programs together to capture the massive funds that will come in for servicing veterans. Hop to it NPOs!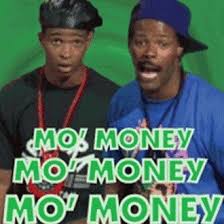 Proposition 2:
The Use Millionaire's Tax Revenue for Homelessness Prevention Housing Bonds Measure
 YES we vote support authorizing the state to use revenue from Proposition 63 (2004)—a 1 percent tax on income above $1 million for mental health services—on $2 billion in revenue bonds for homelessness prevention housing for persons in need of mental health services.
http://stateofworkingamerica.org/fact-sheets/poverty/
US Census Data (excel file)
OUR WORD:
Black people maintain the highest rates of poverty despite building the wealth of this country. We have been displace by immigration and miseducated to keep us blind to the massive resources in the US. So anytime funds can be taken from the top sounds like a good idea to us. We side with "Rob N' the Hood"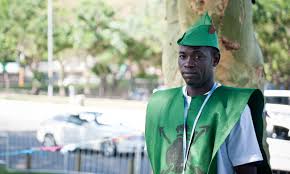 More to come…..
Citations
https://statisticalatlas.com/place/California/San-Diego/Race-and-Ethnicity
https://www.aarp.org/research/topics/politics/info-2014/african-american-black-social-issues-study.html