Dirt Don't Hurt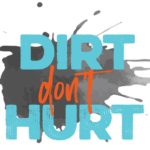 Dirt Don't Hurt is a local, San Diego based company that makes 100% Natural, Earth Plant Based body care products. Our product line consists of a Charcoal Tooth Powder, Charcoal infused Tooth + Gum Oil, Charcoal Face Mask and a Detox Soak.
Dirt Don't hurt is the brain child of three San Diego sisters. Growing up in a health conscious household, using natural products was a way of life. As they grew up, and had children of their own they saw how important and what a gift they had been given by being exposed to such a healthy organic lifestyle so early on. They always dabbled in making their own products when store bought stuff just wasn't up to snuff. When friends and family started requesting their products as gifts, they realized they might really have something. Shortly after they began selling their homemade products at local farmer's markets.
Fast forward to 2017, the most requested product by far has been their all natural activated charcoal tooth powder. As family and friends experienced how these products transformed their teeth,skin, health, they knew they had to share this with everyone.
Dirt Don't hurt invites you to get down and earthy with us.
Send Message to listing owner
Dirt Don't Hurt