The Community Connection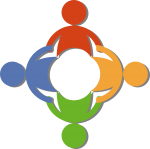 The Community Connection promotes family friendly, faith based and culturally diverse events to the community free of charge, touching the lives of thousands of people every day.
WHO WE ARE
The Community Connection is a faith based calendar of events for a culturally diverse community. It was founded in 2015 by Matthew and Tamrah Mendenhall.
Our mission is to raise awareness about what's happening in your community. Find out what's happening in your community right here. Arts & Culture, Music, Church, Professional, Health & Fitness, Sports, Networking and more!
THE PROBLEM WE'RE SOLVING
There are 2 big problems we're solving. The first problem is with the leadership community. The problem in the leadership community is the leaders don't know who each other are, let alone what they are doing. That's where we come in. We create an environment where they can gather together online and offline to enrich and grow their organizations bigger and better than ever before.
The second problem is that many people don't know what's going on in their own community. All they mostly hear is the radio advertising parties. The Community Connection solves this by finding family friendly events that are culturally diverse and faith based, that way people can have fun and feel comfortable knowing they are enriching their lives by going to quality events to meet quality people.
WHAT WE'VE DONE
In the last 30 days, we promoted 250+ faith based culturally diverse events. With us, you'll discover new groups and meet new like minded people; and with us, leaders join forces with leaders. Art, dance, music, plays, fashion, career, health, networking, revivals, sports, family, children, professional, cultural and more. Be active. Get involved. Stay connected. Like The Community Connection today!
Send Message to listing owner
The Community Connection