#fashion #fashionstylist #profwomen #womeninleadership #speaker #emcee #host #thenewlookofleadership #sandiego #sandiegofashion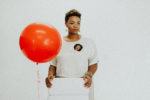 I'm Skyler but please call me Le Red Balloon. I am not your average Fashion Stylist.
I'm in this world to change to look of leadership by dressing my clients through and for their own version of growth, transformation, and metamorphosis. I style and prepare Butterfly Queens & Kings for their unique tables of leadership.

I stand beside my clients, cheering them on, as they spend less time in front of the mirror and more time creating magic in board rooms, class rooms, and any other room they want to own.